Femxa Formación S.L.U. is a company specialized in consulting and training for employment, aimed at companies, public administration, consulting, professional offices, training centers and individuals. Our goal is to increase the competitiveness of organizations, employability and professional qualification of people. We are part of Grupo Femxa, with 8 companies specialized in different fields, always focused on improving the qualification of people:

Since 1999, our experience in the development and implementation of training plans are setting in different business sectors. We participate in all the processes involved in the teaching-learning process, from the analysis of the training needs of an entity, organization or public administration, to the design of the training plan that provides specific solutions to these needs, through the development of materials and didactic means, the selection of teaching experts or advisors in the teaching process, the delivery of training activities both in training activities, in any type of teaching, and other activities (conferences, coaching sessions, workshops, conferences, etc.), the publicity and dissemination of the Projects, the selection of the participants or the justification of the funds received. We highlight the specific training we have done for the most vulnerable groups. •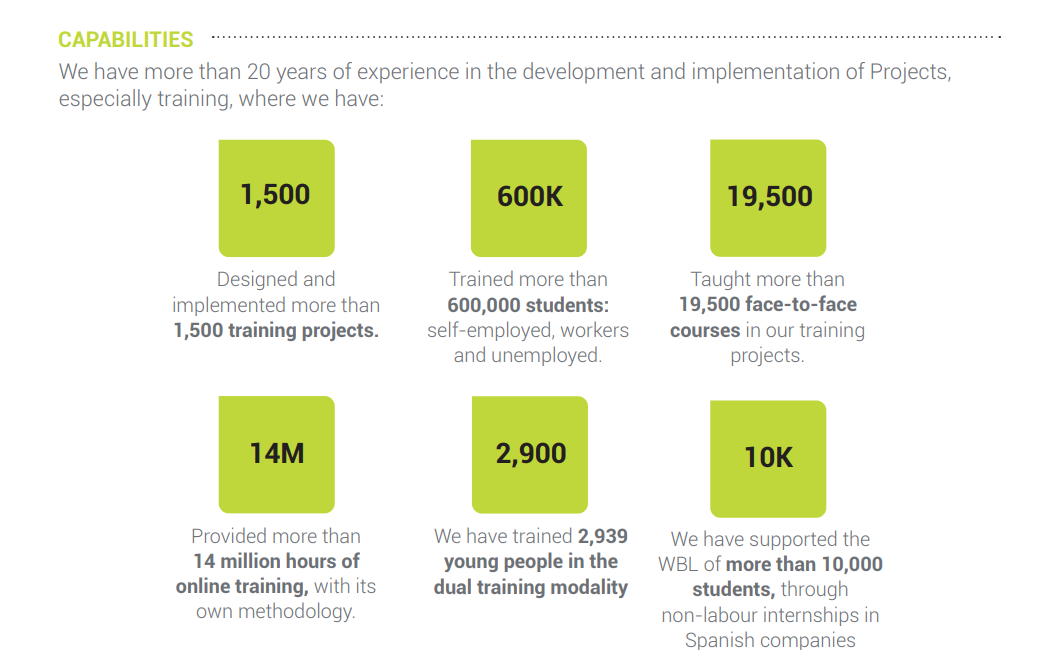 In addition, annually:

We train more than 40,000 people in Spain and more than 20,000 in Latin America.
We coordinate the development of more than 400 face-to-face and e-learning projects, training workers from all over Spain, as well as staff from corporations and universities in Mexico, Peru, Colombia and Romania.